DeWitt Higgs Memorial Lecture
The DeWitt Higgs Memorial Lecture is an endowed lecture sponsored by the Law and Society Program, Earl Warren College and the Higgs family.
DeWitt Higgs was a pillar of the San Diego legal community. He was a founding member of the firm Higgs, Fletcher, and Mack. He served as a UC Regent for 16 years. To honor his contributions, the topic of each Higgs Lecture is related to field of law and society.
The list of recent speakers includes cofounder and president of the Center for Policing Equity Dr. Phillip Atiba Goff, San Francisco mayor Gavin Newsom, UC Berkeley professor and journalist Mark Danner, Geoff Hoon (former leader of the British House of Commons), and NYU professor Jerome Cohen.
2019 DeWitt Higgs Memorial Lecture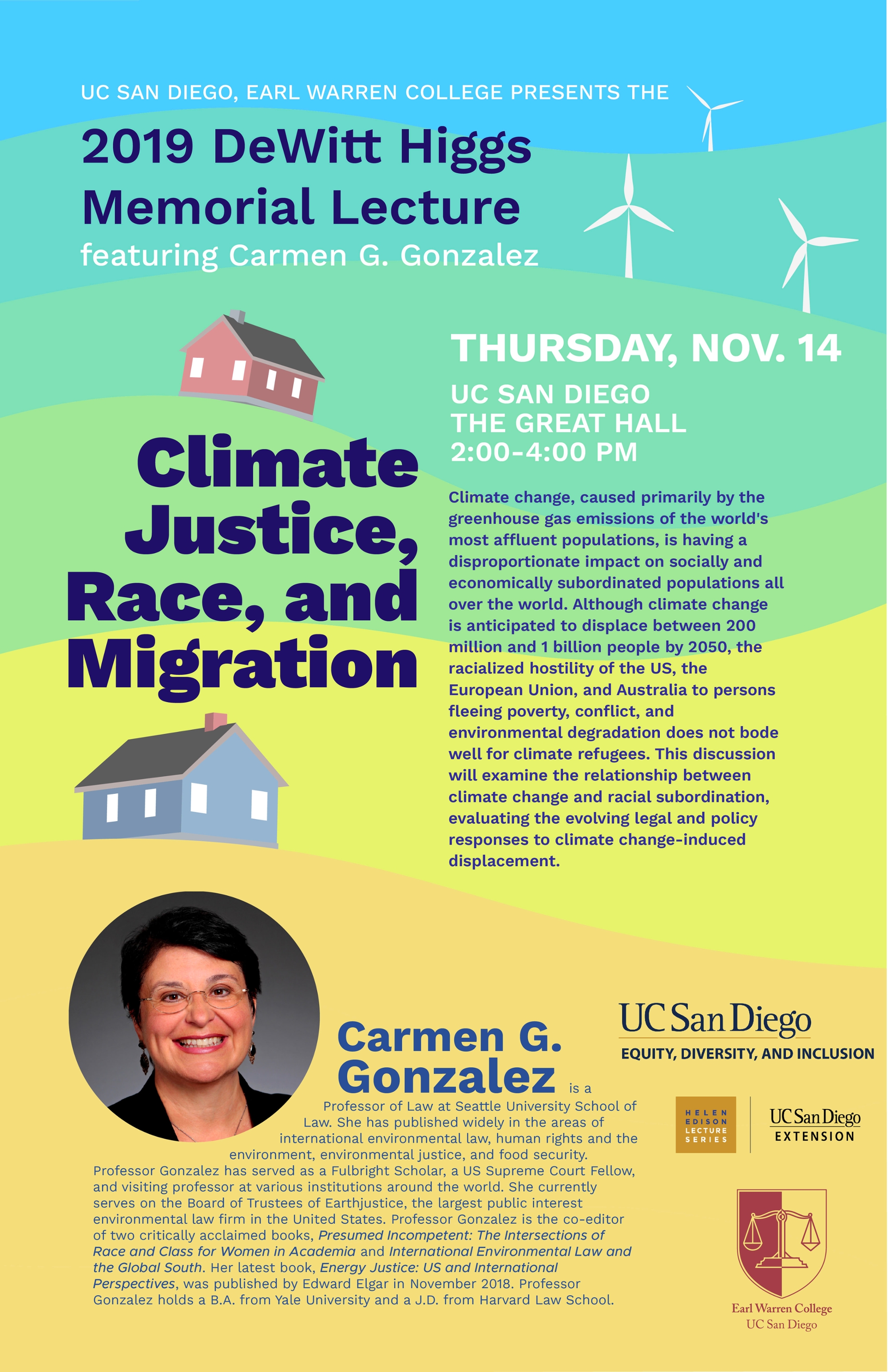 Climate Justice, Race, and Migration
Thursday, November 14, 2019
2:00 - 4:00pm
The Great Hall at UC San Diego
Climate change, caused primarily by the greenhouse gas emissions of the world's most affluent populations, is having a disproportionate impact on socially and economically subordinated populations all over the world. Although climate change is anticipated to displace between 200 million and 1 billion people by 2050, the racialized hostility of the US, the European Union, and Australia to persons fleeing poverty, conflict, and environmental degradation does not bode well for climate refugees. This discussion will examine the relationship between climate change and racial subordination, evaluating the evolving legal and policy responses to climate change-induced displacement.
Disatinguished speaker Carmen G. Gonzalez is a Professor of Law at Seattle University School of Law. She has published widely in the areas of international environmental law, human rights and the environment, environmental justice, and food security. Professor Gonzalez has served as a Fulbright Scholar, a US Supreme Court Fellow, and visiting professor at various institutions around the world. She currently serves on the Board of Trustees of Earthjustice, the largest public interest environmental law firm in the United States. Professor Gonzalez is the co-editor of two critically acclaimed books, Presumed Incompetent: The Intersections of Race and Class for Women in Academia and International Environmental Law and the Global South. Her latest book, Energy Justice: US and International Perspectives, was published by Edward Elgar in November 2018. Professor Gonzalez holds a B.A. from Yale University and a J.D. from Harvard Law School.
About the DeWitt Higgs Memorial Lecture
DeWitt "Dutch" Higgs graduated from California Western School of Law in 1934. He founded the firm of Higgs, Fletcher and Mack, one of San Diego's leading local firms, and served as the region's first representative on the University of California Board of Regents. In recognition of his contributions to the law, education, and academic freedom, UC San Diego and California Western School of Law, in conjunction with the Higgs family, present the DeWitt Higgs Memorial Lecture each year.
View past Higgs Lectures online through the UCSD-TV website.
For more information, contact the Law & Society office at lawandsociety@ucsd.edu or (858) 534-3068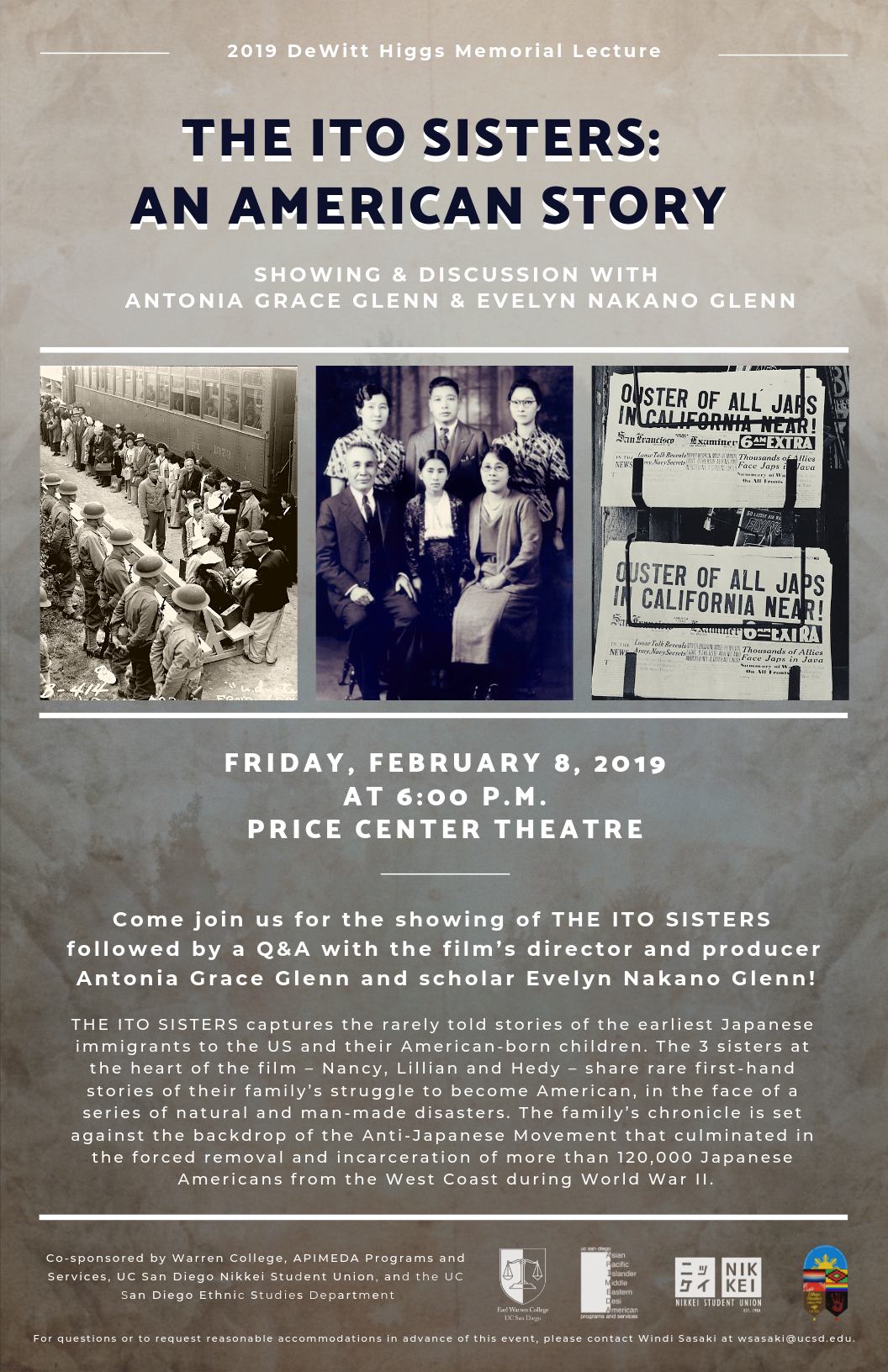 With an uncanny eloquence and signature wit, in his April 26, 2018 Higgs Lecture, "Where No Story Has Gone Before," George Takei shared the story of his family's forced internment as Japanese Americans during WWII—a seemingly forgotten part of American history. He also took the audience through his rise to celebrity as a Sci-fi icon, his remarkable journey as social media mega power, and his passionate fight for LGBTQ rights and marriage equality in America—empowering others to beat the odds and make a difference.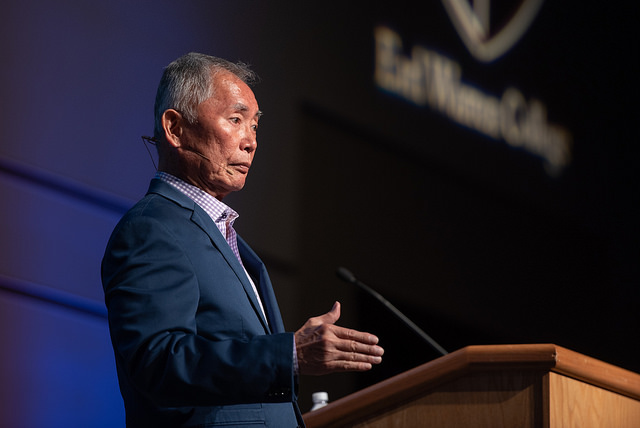 Takei's riviting Higgs Lecture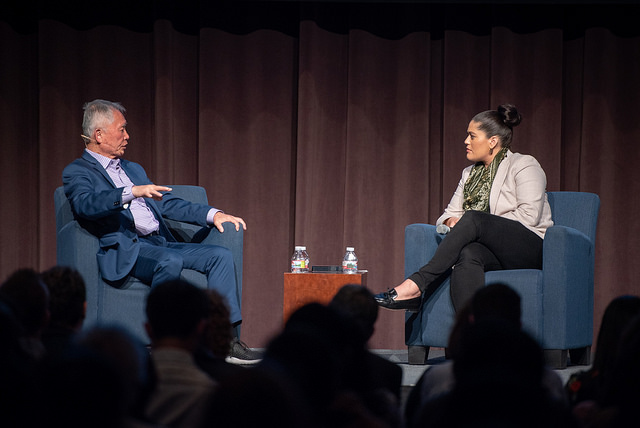 Q&A session moderated by CEO of the LGBT Center's San Diego chapter (and ERC alum), Cara Dessert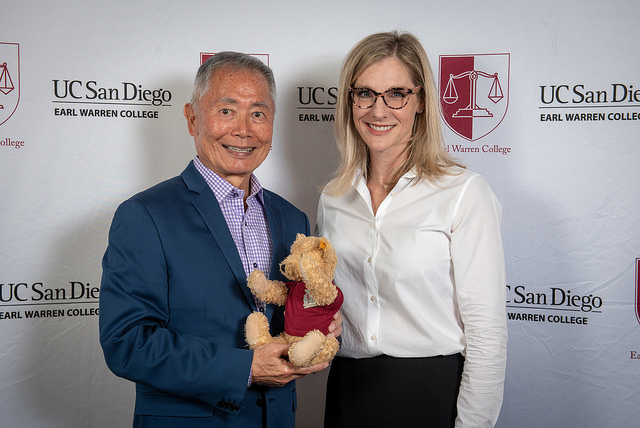 Takei with Earl Warren College Provost Emily Roxworthy and Warren College mascot Bearl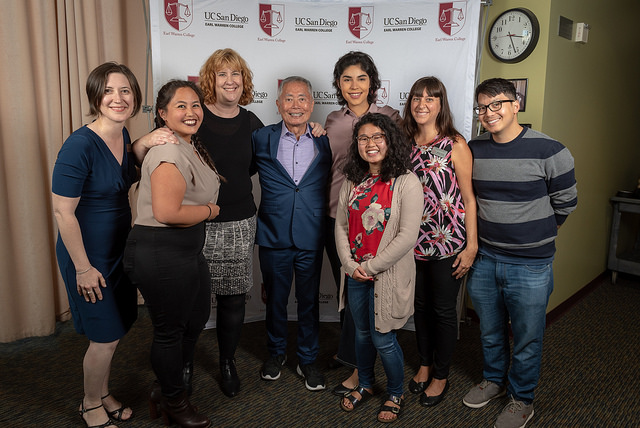 Takei with staff and students from Thurgood Marshall College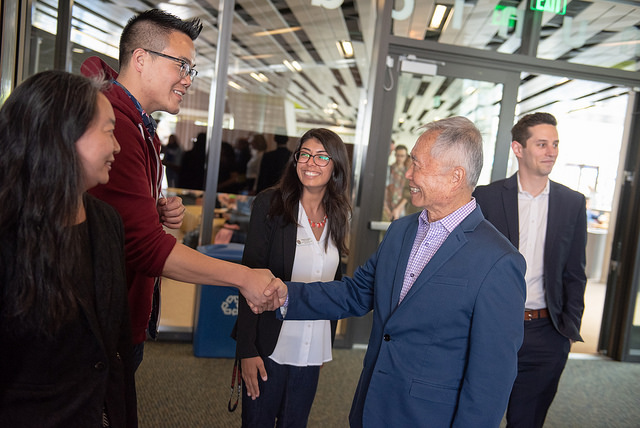 Takei greeting guests at the Higgs VIP reception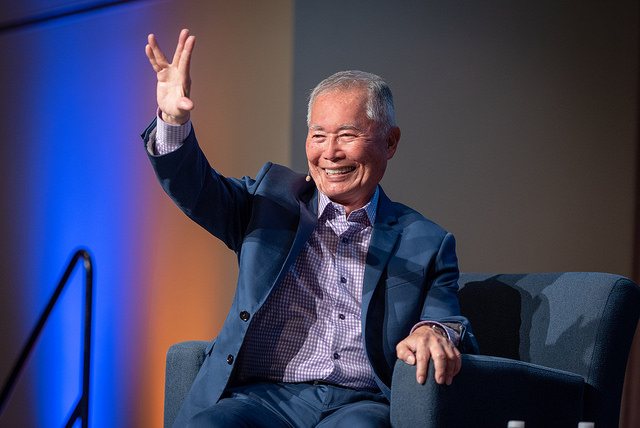 Flashing the Vulcan salute to the audience at the Higgs Lecture
Phillip Atiba Goff is the inaugural Franklin A. Thomas Professor in Policing Equity at John Jay College of Criminal Justice. He is the co-founder and president of the Center for Policing Equity, and an expert in contemporary forms of racial bias and discrimination, as well as the intersections of race and gender. Dr. Goff serves as one of four Principal Investigators for the CPE's National Justice Database, the first national database on racial disparities in police stops and use of force. His January 12, 2017 Higgs Lecture, "A New Language of Justice: Policing, Race, and Identity Traps in the Era of Trump" followed some of his work exploring the ways in which racial prejudice is not a necessary precondition for racial discrimination. That is, despite the normative view of racial discrimination—that it stems from prejudiced explicit or implicit attitudes—situational factors can facilitate racially unequal outcomes.